Review
Young woman kills man who tries to rape her, then finds herself caught between investigating detective (who happens to be her boyfriend) and a blackmailer. Hitchcock's and England's first talking picture is story exciting, especially for fans and students of the director's work. Originally shot as a silent; that version, running 75 minutes, also exists (and is significantly better).
Trivia
Anny Ondra's voice was dubbed by Joan Barry because she had a thick German accent. Barry had to stand just of the set and read Ondra's lines into a microphone as the film was shot.

Cameo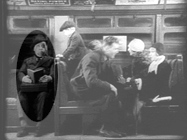 Hitchcock makes his cameo appearance being bothered by a small boy on the subway.