Review
Frederick Knott's suspense play of man plotting wife's murder and subsequent police investigation: stagey at times but slick and entertaining. Filmed in 3-D. Remade for TV.
Trivia
The movie was shot in 3-D although it was never released that way until after Hitchcock's death.
Hitchcock arranged to have Grace Kelly dressed in bright colours at the start of the film and made them progressively darker as time goes on.
Cameo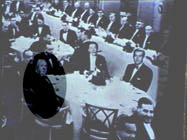 Hitchcock makes his cameo appearance 13 minutes into the film, on the left side of the reunion photograph.