Review
McCrea in title role caught in middle of spy ring with reporters Sanders and Benchley, innocent Day, suspicious father Marshall. Tremendously entertaining film with several vintage Hitchcock showpieces. Scripted by Charles Bennett and Joan Harrison; dialogue by James Hilton and Benchley.
Trivia
Albert Basserman who played the Dutch diplomat Van Meer couldn't speak a word of English and learnt all his lines phonetically.

Cameo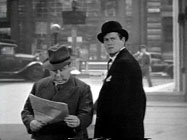 Hitchcock makes his cameo appearance early in the movie walking past Joel McCrea's hotel reading a newspaper.