Review
Hitchcock in full gear, telling story of suave London strangler (Foster) and innocent man (Finch) suspected of murder spree. All classic Hitchcock elements are here, including delicious black humor, several astounding camera shots. Script by Anthony Shaffer.
Trivia
Elsie Randolph who plays a worker at the hotel last appeared in a Hitchcock film 40 years earlier as the old maid in 1932's Rich and Strange.
This was the first film Hitchcock shot in England since 1950's Stage Fright.
Cameo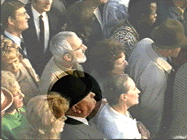 Hitchcock makes his cameo appearance in the first moments of the film in the crowd - he is the only one not applauding the speaker.