Review
A priest (Clift) hears a murderer's confession and is himself accused of the crime. Lesser Hitchcock film, made on location in Quebec, is nevertheless intriguing for its stark photography and symbolism.
Trivia
Anne Baxter was one of the actresses tested by Hitchcock for the leading role in Rebecca (she was 16 at the time).

Cameo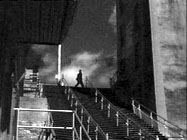 Hitchcock makes his cameo appearance crossing the top of a staircase during the opening credits.