Review
An old woman's disappearance during a train ride leads baffled young woman into a dizzying web of intrigue. Delicious mystery-comedy; Hitchcock at his best, with a witty script by Frank Launder and Sidney Gilliat, and wonderful contribution by Naunton Wayne and Basil Radford, who scored such a hit as a pair of twits that they repeated those roles in several other films! Based on Ethel Lina White's novel The Wheel Spins . Remade in 1979.
Trivia
The movie was remade in 1979.

Cameo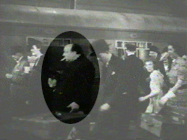 Hitchcock makes his cameo appearance near the end of the movie at Victoria Station wearing a black coat and smoking a cigarette.