Review
Penetrating revelations about shipwreck survivors adrift in lonely lifeboat during WW2. Bankhead remarkable as spoiled rich girl, Slezak fine as Nazi taken aboard. Only Hitchcock would take on the challenge of such a film and succeed. Jo Swerling adapted John Steinbeck's original story.
Trivia
The pictures in the cameo appearance were genuine as Hitch had just been on a crash diet (although not with the fictional Reduco).

Cameo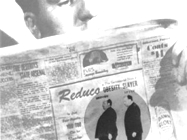 Hitchcock makes his cameo appearance in "before" and "after" pictures in a newspaper advert for Reduco the Obesity slayer.