Review:
Remake of Hitchcock's 1934 film. American couple becomes accidentally involved in international intrigue. Doris's "Que Sera, Sera" won Jay Livingston and Ray Evans the Best Song Oscar. That's Bernard Herrmann conducting the orchestra at the climax.
Trivia
Bernard Herrmann (the composer of the score) can be seen conducting the orchestra during the Albert Hall sequence.
The Albert Hall sequence lasts 12 minutes without a single word of dialogue and consists of 124 shots.

Cameo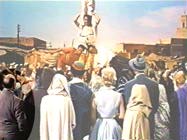 Hitchcock makes his cameo appearance in the Moroccan marketplace watching the acrobats with his back to the camera just before the murder.