Review
This story of a habitual thief (Hedren) whose employer (Connery) is determined to understand her illness was considered a misfire in 1964 but there's more than meets the eye, especially for Hitchcock buffs. Script by Jay Presson Allen. Look for Bruce Dern and Mariette Hartley in small roles.
Trivia
The production company created for the film, "Geoffrey Stanley" was named after Hitchcock's pet dogs.
Hitchcock and Tippi Hedren had a major falling out during the filming and by the end he directed her through intermediaries.
Bruce Dern can be seen briefly as the sailor in Marnie's flashback.
Hitchcock wanted Grace Kelly to make her screen come back in the title role, but the people of Monaco were not happy with the idea of their princess playing a compulsive thief.

Cameo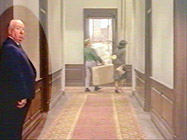 Hitchcock makes his cameo appearance 5 minutes into the film, in the hotel corridor as Tippi Hedren walks by.