Review
Quintessential Hitchcock comedy-thriller, with bewildered ad-man Grant chased cross country by both spies (who think he's a double agent) and the police (who think he's an assassin). One memorable scene after another, including now-legendary crop-dusting and Mount Rushmore sequences; one of the all-time great entertainments. Witty script by Ernest Lehman, exciting score by Bernard Herrmann.
Trivia
Jessie Royce Landis played Cary Grant's mother, yet he was 10 months older than her.
The shot of Cary Grant entering the UN building had to be filmed with a hidden camera as Hitchcock wasn't able to get permission to shoot there.
At one point the movie's title was to be "The Man in Lincoln's Nose", referring to the final chase sequence on Mount Rushmore.
At the shooting sequence in Mount Rushmore you can see a small boy covering his ears just before Eva Marie Saint shoots Cary Grant, since he had oviously rehearsed that scene before.

Cameo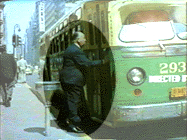 Hitchcock makes his cameo appearance missing a bus at the end of the opening credits.