Review
Talk, Talk, Talk in complicated, stagy courtroom drama, set in England. Below par for Hitchcock, producer David O. Selznick also wrote the script. Originally 132 minutes, then cut to 125 minutes and finally 116 minutes.
Trivia
An exact replica of the Old Bailey courtroom was constructed for the court scenes.

Cameo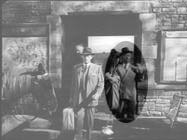 Hitchcock makes his cameo appearance getting off a train at the Cumberland station carrying a cello (see also his cameo in Strangers on a Train).