Review
The Master's most notorious film is still terrifying after all these years, as larcenous Leigh picks the wrong place to spend a night: The Bates Motel (12 cabins, 12 vacancies and 12 showers), run by a peculiar young man and his crotchety old "mother." Hitchcock's murder set-pieces are so potent, they can galvanize (and frighten) even a viewer who's seen them before! Bernard Herrmann's legendary (and endlessly imitated) score adds much to the excitement. Script by Joseph Stefano from the Robert Bloch novel. Followed by three sequels (the last for cable TV) and a TV movie (Bates Motel) decades later!
Trivia
The film only cost $800,000 to make yet has earned more than $40,000,000. Hitchcock used the crew from his TV series to save time and money. In 1962 exchanged the rights to the film and his TV-series for a huge block of MCA's stock (he became their third largest stockholder).
Robert Bloch's original novel was inspired by the notorious serial killer Ed Gein who was also one of the inspirations for the character of Hannibal Lector (The Silence of the Lambs/Manhunter).
Hitchcock bought the rights to the novel anonymously from Robert Bloch for just $9,000. He then bought up as many copies of the novel as he could to keep the ending a secret.
The blood in the shower scene is actually chocolate sauce.
The shot of Janet Leigh flushing the toilet is believed to be the first such shot in American cinema history.
The MPAA refused to pass this film because they claimed to be able to see Janet Leigh's nipple during the shower scene. Hitchcock didn't edit it out, but merely sent it back, (correctly, it seems) assuming that they either wouldn't bother to watch it, or miss it the second time.
Hitchcock insisted that audiences should only be allowed to see the film from the start so as not to ruin the surprise. This was unheard of back then as people were used to just coming in at any point during a movie.
After the film's release Hitchcock received an angry letter from the father of a girl who refused to have a bath after seeing Diabolique and now refused to shower after seeing Psycho. Hitch sent a note back simply saying "Send her to the dry cleaners".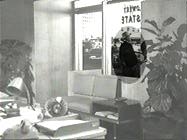 Cameo
Hitchcock makes his cameo appearance 4 minutes in wearing a cowboy hat outside Janet Leigh's office.