Review
Perceptive Americana intertwined with story of young girl who slowly comes to realize her beloved Uncle Charley is really the Merry Widow murderer; Cronyn steals film as nosy pulp-story fan. Scripted by Thornton Wilder, Alma Reville, and Sally Benson from Gordon McDonnell's story. Remade in 1958 (as Step Down to Terror) and for TV in 1991.
Trivia
It was remade as "Step Down to Terror" in 1958 and as a TV movie in 1991.

Cameo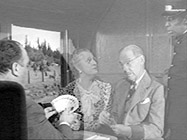 Hitchcock makes his cameo appearance on the train to Santa Rosa playing cards. He has the entire suit of spades in his hand, including the symbolic ace.