Genres
Thriller, Mystery
Director
Alfred Hitchcock
Writers
Whitfield Cook
Selwyn Jepson (novel)
Composer
Leighton Lucas
Director of Photography
Wilkie Cooper
Review
Drama student is suspected when actress' husband is murdered. Filmed in London with delightful British cast; Marlene sings "The Laziest Gal in Town."

Cameo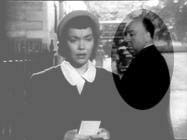 Hitchcock makes his cameo appearance turning to look at Jane Wyman in her disguise as Marlene Dietrich's maid.
| | |
| --- | --- |
| Jane Wyman | Eve Gill |
| Marlene Dietrich | Charlotte Inwood |
| Joyce Grenfell | Shooting Gallery Attendant |
| Patricia Hitchcock | Chubby Banister |
| Hector MacGregor | Freddie |
| Miles Malleson | Bibulous gent |
| Andre Morell | Inspector Byard |
| Alastair Sim | Commodore Gill |
| Sybil Thorndike | Mrs. Gill |
| Richard Todd | Jonathan Cooper |
| Kay Walsh | Nellie |
| Michael Wilding | Inspector Wilfred Smith |
| Ballard Berkeley | |