Review
Fontaine won Oscar for portraying wife who believes husband Grant is trying to kill her. Suspenser is helped by Bruce as Cary's pal, but finale (imposed by the Production Code) leaves viewer flat. Remade as a TV movie. Also shown in computer-colored version.
Trivia
In the scene where Cary Grant brings a glass of milk up to Joan Fontaine, Hitch had a light hidden in the glass to make it appear more sinister.
Hitchcock originally wanted Grant to be guilty, but the studio insisted that the public wouldn't accept him as a murderer.
It was remade as a British TV movie in 1987
Cameo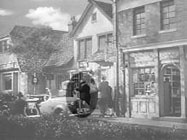 Hitchcock makes his cameo appearance 45 minutes in, mailing a letter at the village post office.