Review
The French Riviera serves as picturesque backdrop for this entertaining (if fluffy) Hitchcock caper with Grant as reformed cat burglar suspected in new wave of jewel robberies. Chic and elegant in every way—and Kelly never looked more ravishing. Script (including much-imitated fireworks scene) by John Michael Hayes; Oscar-winning photography by Robert Burks.
Trivia
The road where Cary Grant and Grace Kelly are pursued by the police is the same one where Kelly died in a car crash 27 years later.

Cameo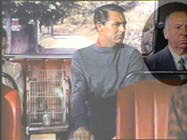 Hitchcock makes his cameo appearance 10 minutes in, sitting next to Cary Grant on a bus.