Review
French Intelligence agent Stafford works with American official Forsythe to dig out info on Russia's involvement in Cuba. Whirlwind plot circles globe, maintains intrigue level; good, not great Hitchcock, scripted by Samuel Taylor from Leon Uris' best-seller. Laser-disc video release includes not one but two alternate endings Hitchcock shot and then decided not to use!
Trivia
The film was Hitchcock's biggest flop, costing over $4M to make, but taking less than $1M
Leon Uris wrote the first draft of the screenplay, but Hitch declared it unshootable at the last minute and called in Samuel Taylor (writer of Vertigo) to rewrite it from scratch. Some scenes were written just hours before they were shot.
Cameo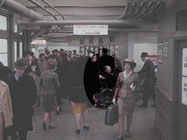 Hitchcock makes his cameo appearance 30 minutes in at the airport getting out of a wheelchair.