Review
Oddly unmoving Hitchcock thriller about American scientist pretending to be defector. Slick but empty film. Some TV prints are cut to 121 minutes, excising violent scenes.
Trivia
The scene where agent Gromek is killed was written to show how difficult it really can be to kill a man.
Keith Waterhouse and Willis Hall did extensive (uncredited) rewrites on the script.
Bernard Herrmann wrote the original score, but Universal executives convinced Hitch that they needed a more upbeat score. Hitch and Herrmann had a major disagreement, the score was dropped and they never worked together again.

Cameo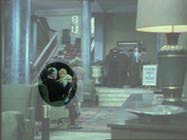 Hitchcock makes his cameo appearance early in the film sitting in a hotel lobby with a baby on his knee.