Review
Offbeat, often hilarious black comedy courtesy of Mr. Hitchcock and scripter John Michael Hayes about bothersome corpse causing all sorts of problems for peaceful neighbors in New England community. Gwenn is fine as usual, MacLaine appealing in her first film. Beautiful locations, whimsical score (his first for Hitch) by Bernard Herrmann.
Trivia
Bernard Herrmann's score was the first of a long collaboration with Hitchcock that lasted nearly nine years.
Once again Hitchcock bought the rights to the original novel anonymously for just $11,000.
Cameo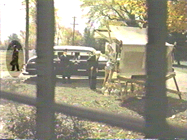 Hitchcock makes his cameo appearance about 20 minutes in, walking past the limousine of a man looking at the paintings.