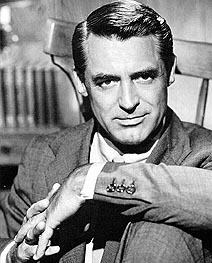 Cary Grant
Occupation: Actor

Birth Name: Archibald Alexander Leach

Born: January 18, 1904, Bristol, England

Died: November 29, 1986, Davenport, IA
Links
Cary Grant's Biography in the Internet Movie Database.
Cary Grant's Internet Movie Database Filmography entry.
Cary Grant once described his screen persona as "a combination of Jack Buchanan, Noel Coward and Rex Harrison. I pretended to be somebody I wanted to be, and, finally, I became that person. Or he became me." In fact, in the process of constructing his cool, sophisticated movie star persona, Grant became not only the illusory presence he would have liked to be but the perfect, debonair Hollywood star. In Charade (1963), Audrey Hepburn poses a question to her costar and then answers it herself: "Do you know what's wrong with you? Nothing." Cary Grant was the true iconic movie star, his suave outward style and external sheen masking an inner reserve and aloofness. And in that reserve and seeming unconcern lies the Grant mystique. The plots of most Grant films revolve around this mystique and the efforts of a female a short list includes such disparate types as Irene Dunne, Jean Arthur, Ingrid Bergman, Katharine Hepburn, Eva Marie Saint, Leslie Caron and Grace Kelly to break it. And the audience can only guess at Grant's seeming abandonment and surrender to these women, whether it's symbolized by the door slamming shut at the end of The Awful Truth (1937) or the train racing into a tunnel at the end of North By Northwest (1959). Whatever the final outcome, Cary Grant did not show passion. That was left to other, more demonstrative actors. His acting was subtle and seamless, transcending performance altogether. It could be said that Cary Grant became a state of mind.
Grant's early life belied his on-screen personality. Born Archibald Alexander Leach, he was the only child of impoverished parents. At the age of nine he lost his mother when she was institutionalized. Around that time, he developed a love for the English music hall and began working at odd jobs at the Hippodrome and Empire theaters. At 14, he joined the Bob Pender comedy troupe and honed his dancing, acrobatic, stilt-walking and pantomime skills. The troupe performed in small towns throughout England; in 1920 they sailed to the United States for a successful two-year tour, at the end of which young Archie decided to try it on his own in New York City. For five years, Leach eked out a living in jobs as varied as placard walker and society escort. In 1927, he made his first stage appearance in the musical Golden Dawn , followed by appearances in Boom Boom (1929), A Wonderful Night (1929) and Nikki (1931). In 1931, Leach appeared in his first film, a ten-minute short entitled Singapore Sue. By now, he felt the time was right to try his hand at the movies, and he traveled to Los Angeles, where he made a successful screen test for Paramount executive B.P. Schulberg. The studio offered him a five-year contract, suggesting he change his name to Cary Lockwood; Leach haggled with them, and they settled on the name Cary Grant.
Grant's feature debut was in This Is the Night (1932). He soon found himself playing colorless characters opposite such top Paramount female stars as Nancy Carroll, Sylvia Sidney, Marlene Dietrich and Mae West (though he said he learned more about acting and comic timing from her than anyone else he ever worked with). It was on a studio loan-out to RKO in 1935, when Grant appeared with Katharine Hepburn in Sylvia Scarlett, that he began to find his form and spark, playing a Cockney entertainer in a traveling troupe, a role for which he could draw on his experiences with the Pender company. When his Paramount contract expired in 1937, Grant bolted, choosing not to sign with another studio. Instead, he selected his own films, scripts and directors.
Once he left Paramount, Grant put his personal stamp on the screwball comedy genre. As sophisticated as his characters seemed, they were never above a pratfall, setting Grant apart from other leading men of the time and making him the perfect foil for the comic hijinks initiated by screwball comedy's wacky heroines. Grant and his female costars operated on the same plane, neither quite gaining the upper hand; he converted screwball comedy into a two-character, upper-class, adult slapstick parlor game.
Grant's first hit was Topper (1937) but it was The Awful Truth (1937) that made him a star. For the next three years, Grant appeared in a succession of hits, each of which honed his image to a fine gloss: Bringing up Baby (1938), Holiday (1938), Gunga Din (1939), Only Angels Have Wings (1939), His Girl Friday (1940), My Favorite Wife (1940) and The Philadelphia Story (1940). By 1940, Cary Grant had become an archetype.
After this amazing string, his career faltered. The films were either atrocious mistakes (Once Upon a Honeymoon, 1942), bland fantasies (The Bishop's Wife, 1947), or wholesome pap (Room for One More, 1952). When Grant tried something different, something closer to his roots, as the poor East End drifter in None But the Lonely Heart (1944), he was working against a persona that was so implanted and perfected that his characterization seemed ineffective and forced.
Grant had become so much of an ideal that to play a normal person on the screen seemed impossible. Instead, Grant's best roles resulted in his playing off his film image, exposing it and exploiting it particularly in his work with Alfred Hitchcock on Suspicion (1941), Notorious (1946), To Catch a Thief (1955) and North by Northwest (1959), as well as Stanley Donen's Hitchcock-esque Charade.
In 1966, Grant decided to retire from the screen. With his age beginning to show, his exit from the screen left the Grant image untarnished and alive. At the same time, his retirement seemed to signal a farewell to classic Hollywood glamour and sophistication. That Grant could find a place in the late-60s film world of Dennis Hopper, Jack Nicholson and Dustin Hoffman was unlikely. He belonged to a more innocent American film past. As Pauline Kael has written: "He embodies what seems a happier time a time when we had a simpler relationship to a performer. We could admire him for his timing and nonchalance; we didn't expect emotional revelations from Cary Grant... He appeared before us in his radiantly shallow perfection and that is all we wanted of him.... We didn't want depth from him; we asked only that he be handsome and silky and make us laugh."
---
Relationship:
Cary Grant worked with Hitchcock on four different films Suspicion, Notorious, To Catch a Thief and North by Northwest. Grant personified the prototype of the ideal man created by Hitchcock and the type of man he would have liked to be. The opposite of Cary Grant's characters were the ones portrayed by James Stewart, they were Hitchcock's self portrait, weakling, indecisive, etc.
Cary Grant's characters on the three films, presented an easiness around women, great charisma and personality, bravery; they were cool under pressure, and attracted women like magnets.