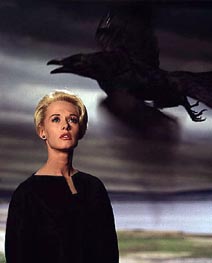 Tippi Hedren
Occupation: Actress
Birth Name: Nathalie Hedren
Born: 1928, Lafayette, MN
Links
Tippi Hedren's Biography in the Internet Movie Database.
Tippi Hedren's Internet Movie Database Filmography entry.
Icy blonde actress and former model, who is known primarily for her leading roles in two Hitchcock films, The Birds (1963) and Marnie (1964). While doing a commercial on the Today Show, Hedren was discovered by Hitchcock who put her under personal contract, but her career never quite took off after her smashing debut and followup in Marnie. Charles Chaplin cast her with Sophia Loren and Marlon Brando in ill-fated The Countess From Hong Kong (1967) and she appeared in several more features with roles tapering off in the 1970s and 80s.
In Tiger by the Tail (1968) she played a socialite whose Vietnam vet boyfriend recruits her to help find a killer, and in the tepid The Harrad Experiment (1973) she is mistress of an experimental sex school. She then starred opposite daughter Melanie Griffith under the direction of then-husband Noel Marshall in Roar (1981), a docudrama slanted around the preservation of African wild life. (Mother and daughter reunited for the tenant thriller Pacific Heights, 1990).
In the 80s and 90s Hedren appeared in the occasional TV project, but devoted the majority of her time to the Shambala Foundation in Antelope Valley California, a retirement facility for animal performers.