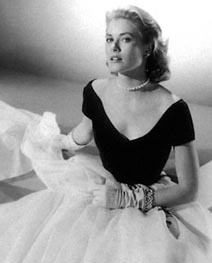 Grace Kelly
Occupation: Actress

Birth Name: Grace Patricia Kelly
AKA: Grace Grimaldi

Born: November 12, 1928,
Philadelphia, PA

Died: 1982

Education: AADA, New York (acting); Neighborhood Playhouse, New York
Links
Grace Kelly's Biography in the Internet Movie Database.
Grace Kelly's Internet Movie Database Filmography entry.
Grace Patricia Kelly (November 12, 1929 – September 14, 1982) was an Oscar-winning American film actress who, as a result of marriage to Prince Rainier III of Monaco on April 19, 1956, became Her Serene Highness Princess Grace of Monaco. She was the mother of the principality's current reigning Sovereign Prince, Albert II of Monaco. Princess Grace was required to renounce her American citizenship upon her marriage.
Early life
Kelly was born in Philadelphia, Pennsylvania, to John Brendan Kelly, Sr., also known as Jack Kelly, and Margaret Katherine Majer, a Catholic convert from Lutheranism. Kelly's father's Irish American Catholic family (originally from Kidney Lake, Newport, Co. Mayo, Ireland) were new but prominent figures in Philadelphia society. Her father was a self-made millionaire and a gold-medal-winning Olympic sculler, and her brother John B. Kelly, Jr., sometimes known as "Jack, Jr." followed in that tradition. John, Jr., gave his sister as a wedding present the bronze medal he won at the 1956 Summer Olympics. Kelly Drive in Philadelphia is named for John, Jr., who was a city councilman there. Her father's family was large and she had two prominent uncles in the arts: one, Walter Kelly, was a vaudevillian, and the other was the Pulitzer Prize winning playwright, George Kelly. Kelly's maternal grandparents, Carl Majer and Margaretha Berg, were of German descent.
Career
Though her family had opposed her becoming an actress, Kelly became a fashion model and appeared in her first film, Fourteen Hours (1951), when she was 22. The following year she "starred" (with a supporting role) in High Noon (1952), a generally praised but somewhat controversial western starring Gary Cooper.
Her next film, Mogambo (1953), was a drama set in the Kenyan jungle which centers on the love triangle portrayed by Kelly, Clark Gable, and Ava Gardner. Whilst filming this movie she had an affair with Gable later memorably commenting "What else is there to do if you're alone in a tent in Africa with Clark Gable?" The movie earned Kelly an Oscar nomination for Best Supporting Actress, but the award went to Donna Reed for her role in From Here to Eternity. Kelly made three films with Alfred Hitchcock: Dial M for Murder, Rear Window, and To Catch a Thief.
In 1955, she was awarded the Academy Award for Best Actress for The Country Girl. While it was being filmed, she was romanced by co-star Bing Crosby, a fellow Irish Catholic, (who had recently lost his wife) but Kelly always denied that they had an affair.
Life as Princess
The musical comedy High Society (1956) was her last film, as her marriage to Prince Rainier III of Monaco marked her retirement from acting. Before her marriage, she was previously allegedly involved with Clark Gable, Bing Crosby, Ray Milland, William Holden, Oleg Cassini, and Jean-Pierre Aumont. She reportedly was surprised to learn from Rainier that she was expected to give up her film career entirely, but followed his wishes grudgingly.