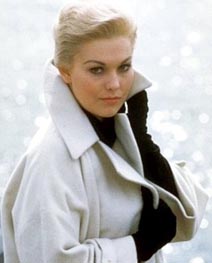 Kim Novak
Occupation: Actress
Birth Name: Marilyn Pauline Novak
Born: February 13, 1933, Chicago, IL
Education: Los Angeles City College
Links
Kim Novak's Biography in the Internet Movie Database.

Kim Novak's Internet Movie Database Filmography entry.
Frosty blonde beauty who broke into films in 1954. Signed and molded by Columbia Pictures mogul Harry Cohn, Novak soon became a popular Hollywood star, with her off-screen romances (Sammy Davis, Frank Sinatra, Cary Grant and Aly Khan were among her partners) attracting as much publicity as her film roles. Probably best known for her cryptic performance in Alfred Hitchcock's dizzying thriller, Vertigo (1958).