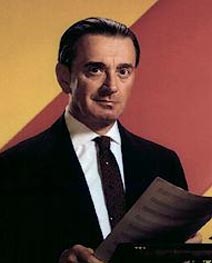 Miklos Rozsa
Occupation: Composer
Born: April 18, 1907, Budapest, Hungary
Died: 27 July 1995 Los Angeles
Education: Leipzig Conservatory
Links
Miklos Rozsa's Biography in the Internet Movie Database.
Miklos Rozsa's Internet Movie Database Filmography entry.
Symphonic and chamber composer who began scoring films for Alexander Korda in England in the 1930s and went with him to Hollywood to make The Thief of Bagdad (1940). A prolific and versatile figure, Rozsa's work ranges from the intimate, disturbing accompaniment for Spellbound (1945) to the epic, sweeping scores of Ben-Hur (1959) and El Cid (1961).