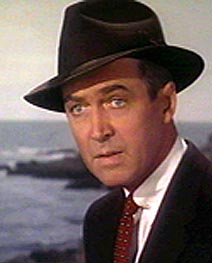 James Stewart
Occupation: Actor
Born: May 20, 1908, Indiana, PA
Died: 2 July 1997
Education: Princeton (architecture)
Links
James Stewart's Biography in the Internet Movie Database.
James Stewart's Internet Movie Database Filmography entry.
James Stewart is arguably the most loved actor ever to have appeared on screen. Certainly, he is the last of the great men who captured audience hearts in the throes of the Depression and became, in the words of Andrew Sarris, "the most complete actor-personality in the American cinema".
Stewart's origins read like cliches; he was born in 1908 in Indiana, Pennsylvania, the son of the local hardware store owner (his Oscar has permanently resided in the store, which has been in the family for generations). While studying architecture at Princeton (his father's alma mater), he met Joshua Logan, who convinced him to begin acting. Billy O'Grady, MGM's chief talent scout, saw his performance in a line of female impersonators and remembered him as "the only one who didn't ham it up". Bitten at last by the drama bug, Stewart moved with Logan to summer stock work with the University Players in Falmouth, MA, joining Henry Fonda and Margaret Sullavan.
That summer a production had a pre-Broadway tryout at Falmouth and Stewart, as a chaffeur, had two lines: "Mrs. Mainwaring's car is waiting" and, after being delayed, "Mrs. Mainwaring's going to be sore as hell". It tore down the house and was noticed and written up by a visiting New York critic. Stewart and Fonda moved to New York, where Hedda Hopper recommended Jimmy for a screen test, resulting in a long-term MGM contract.
From the first, Stewart's performances stood out: raw, edgy, full of nervous energy. While his rivals played with masculine understatement, Stewart mirrored the vital excesses of those most American of rising actresses Crawford, Davis, Hepburn.
Audiences first took note of him as Eleanor Powell's leading man in Born to Dance (1936) (everyone at Metro at least had to try musicals; Stewart, singing sort of introduced Cole Porter's "Easy to Love". He was hopeless, but the public found him adorable).
Most of Stewart's big breaks came away from MGM: Stevens' Vivacious Lady (1938) at RKO, and Frank Capra's You Can't Take it With You (1938) at Columbia; David O. Selznick's Made For Each Other (1939), opposite Carole Lombard; Mr. Smith Goes to Washington (1939), with Jean Arthur, at Columbia; and Destry Rides Again (1939) taming Dietrich and the west at Universal. MGM rallied with two winners, both co-starring Sullavan: Lubitsch's The Shop Around the Corner (1940) and Borzage's haunting The Mortal Storm (1940). Cukor's The Philadelphia Story followed. Stewart surprised the industry and himself, winning a best actor Oscar, despite being second lead to Cary Grant.
At age 33, he enlisted as private and rose to colonel in the Air Force, leading one thousand plane strikes against Germany; Stewart won the Air Medal and the Distinguished Flying Cross.
After the war, Stewart contributed what is undoubtedly his best-known performance, in Frank Capra's It's a Wonderful Life (1946). He would later deliver a speech before Congress protesting the film's colorization.
Postwar audiences no longer wanted sentiment. Stewart vigorously changed his image, turning hard-bitten for Call Northside 777 (1948) and working for Hitchcock in Rope (1948). He returned to Broadway to replace Frank Fay in the whimsical Harvey and, before filming the 1950 movie version, made the first two westerns of his career, both of which were hugely popular. Stewart also turned in a heart-tugging performance as a clown in DeMille's The Greatest Show on Earth (1952).
In 1952, Stewart's agent Leland Hayward successfully negotiated an agreement with Universal for Stewart to work on a percentage basis a first for the sound era. Every star in the business stampeded to do the same, something which Stewart felt signified the last hurrah for the studio system. He still looks back on his "factory years" with clear nostalgia and gratitude.
The next phase of Stewart's career saw some of his most complex roles, for directors such as Hitchcock, Preminger (Anatomy of a Murder, 1959 earned him a best actor award from the New York Criticsóhis secondóand the Venice Film Festival), Ford, Aldrich and Anthony Mann. His famous gawky, stammering mannerisms took on an extra interest for being filtered through toughness, cynicism and world-weariness. Though there have been occasional flops, he has undoubtedly proved his ability to transcend bad material.
Stewart married his wife Gloria in 1949 and had four children. In 1970, he revived Harvey on Broadway with Helen Hayes and has done occasional TV work, notably "The Jimmy Stewart Show" (1971-72) and 1983's powerful TV-movie Right of Way, with Bette Davis. In 1990 he was honored by the Film Society of Lincoln Center for lifetime achievement.
---
Relationship:
James Stewart worked with Hitchcock on four different films Rope, Rear Window, The Man Who Knew Too Much and Vertigo. Personifying the Hitchcock's self concept.