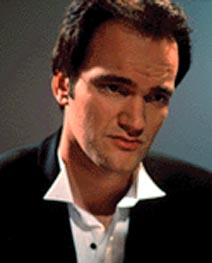 Quentin Tarantino
Occupation: Writer, director
Born: 1963, Knoxville, TN
Links
Quentin Tarantino's Biography at the Internet Movie Database.
Quentin Tarantino's Internet Movie Database Filmography entry.
After working for four years as a clerk in a Los Angeles video store, he made his feature directorial and screenwriting debut with the brutal, offbeat Reservoir Dogs (1992). Originally slated to be made for a mere $35,000, the film's production budget expanded to $400,000 when Harvey Keitel became enamoured of the script and agreed to star. A brilliantly structured, stylized cops-and-robbers drama dealing with the themes of loyalty and betrayal, Reservoir Dogs premiered at the 1992 Sundance Film Festival, where it was pointedly snubbed by the jury. Nonetheless, Tarantino was subsequently courted by the industry and lionized by critics as the next Martin Scorsese. Then in the 1993 Cannes film festival Quentin Tarantino, takes the Film industry by surprise by making a movie (Pulp Fiction) out of four strange stories of raw power and suspence.
---
Relationship:
One of this influences along with Jean-Luc Godard's and Robert Aldrich's is Hitchcock's, as you can see in the following passages:
What's in the brief-case?
Well, it is a 'Mcguffin'(?), a theatrical device... We're not meant to know what's in the case, nor is it at all important what is in the case. It is a plot device introduced so that QT could play with the characters, it's only importance is the effect that it has on the characters.
From the Pulp Fiction FAQ
What films have influenced Tarantino in the making of 'Pulp Fiction'?...
When Butch stops at the lights and sees Marsellus crossing the road, we are reminded of Alfred Hitchcock's film 'Psycho' when Janet Leigh stops at a set of lights to see her boss crossing the road.
From the Quentin Tarantino FAQ


From Roger Ebert (The Movie Answer Man)
A. In old movies, the street scenes seen through the back windows of cars were usually "back projection" onto a screen behind the car window, and sometimes they didn't match -- the cars outside would be 15 years too old, or a car would turn directly from the Champs Elysses to the countryside. The autos themselves never left the sound stage. Tarantino probably made the scenery black and white to call attention to the artifice. In "Family Plot," Alfred Hitchcock also used deliberately phony back projection through a rear car window.
From the Movie Answer Man archives in Compuserve