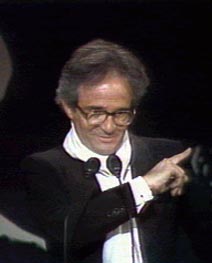 François Truffaut
Occupation: Director, screenwriter, critic also: actor, producer
Born: February 6, 1932, Paris, France
Died: October 21, 1984, Neuilly, France
Links
François Truffaut's Biography in the Internet Movie Database.
François Truffaut's Internet Movie Database Filmography entry.
"Hitchcock films scenes of love like scenes of murder, and scenes of murder like scenes of love"
Influential film critic, leading New Wave director and heir to the humanistic cinematic tradition of Jean Renoir, François Truffaut made films that reflected his three professed passions: a love of cinema, an interest in male-female relationships and a fascination with children.
After a troubled childhood, Truffaut joined the French army, deserted and was sentenced to a prison term. Critic Andre Bazin helped secure his release and encouraged his interest in film. In Bazin's influential journal, Cahiers du Cinéma, Truffaut published "Une Certaine Tendance du Cinema Francais" ("A Certain Tendency in French Cinema") in 1954, proposing what came to be known as the auteur theory. A reaction against the bloated "Tradition of Quality" cinema in France, the article was a plea for a more personal cinema and an informal manifesto for the New Wave, which had not yet broken on the shores of French film.
As a filmmaker, Truffaut began by making shorts (Une Visite, 1954, Les Mistons, 1957) and working as an assistant to Roberto Rossellini. In 1959 he completed his first feature-length film, the semi-autobiographical childhood story The Four Hundred Blows, about a troubled adolescent, Antoine Doinel. Truffaut went on to chronicle Doinel's youth and young adulthood in the "Antoine and Colette" episode of Love at Twenty (1962), Stolen Kisses (1968), Bed and Board (1970) and Love on the Run (1979), all films featuring the same actor, Jean-Pierre Leaud, as Antoine.
Two diverging strains characterize most of Truffaut's work from the early 1960s on. On the one hand, the director celebrated life in the humanistic tradition of Jean Renoir. These films include that masterwork of 60s cinema, Jules and Jim (1961), which defined the modern romantic triangle for a generation, it is the bittersweet story, not of Jules and Jim, the two men, but of Catherine (Jeanne Moreau), the woman who dominates their lives and is free, at least, to choose; The Wild Child (1969), an essay in signs and meaning in which Truffaut himself starred as the historical Dr. Jean Itard, obsessed with understanding how to establish human communication with a boy raised outside of society; the ebullient Such a Gorgeous Kid Like Me (1973); Day For Night (1973), an exuberant celebration of the joy of filmmaking, the ultimate communal art; the joyous depiction of childhood, Small Change (1976); the celebration of women and love in The Man Who Loved Women (1977); and the gentle thriller Confidentially Yours (1983).
On the other hand, many of Truffaut's films are fatalistic or even cynical, displaying a Hitchcockian fascination with life's darker side. This group includes The Bride Wore Black (1968), his most explicit homage to Hitchcock, scored by the master's regular composer, Bernard Herrmann; Two English Girls (1972), about a writer (Léaud) and his affairs with two sisters; The Story of Adele H (1975), one of the most harrowing examinations of unrequited love ever filmed; The Green Room (1978), about the love of death; and The Woman Next Door (1981).
Yet another group of films reflect an uneasy balance of these two divergent tendencies, as in his anatomy of adultery, The Soft Skin (1964); the romantic but brooding Mississippi Mermaid (1969), which Truffaut described as being about "degradation, by love"; and The Last Metro (1980).
"I want a film I watch to express either the joy of making cinema or the anguish of making cinema", Truffaut once said. "I am not interested in all the films that don't vibrate." In 1976, Truffaut accepted the invitation of the wildly successful young American director Steven Spielberg to star in Close Encounters of the Third Kind as the scientist in search of communication with extra-terrestrials. His stoic portrait in that film is an emblem of Truffaut's pain, the arduous difficulty a born outsider encounters in communicating. This pain suffuses his lesser films, and cramps them, but it also lurks never far from the heart of his great films. It's what makes them "vibrate".
Always concerned with the process as well as the product of his profession, Truffaut maintained his role as critic and commentator throughout his filmmaking career, as proud of his books as he was of his films. Among his publications is a book-length interview with Hitchcock, Hitchcock-Truffaut (1967), a perennial critical classic which he revised in 1983, shortly before his death. His critical essays were collected in Les Films de ma Vie (1975) and his letters posthumously in François Truffaut Correspondance (1990), with a foreword by Jean-Luc Godard.
Truffaut died dramatically, arbitrarily of a brain tumor in the American Hospital in Neuilly in 1984. He is the father of Laura Truffaut (born 1959) and Eva Truffaut (born 1961), both of whom appeared in their father's film L'Argent de Poche (1975) and whose mother is his former wife, Madeleine Morgenstern; and of Josephine (born 1983), whose mother is Fanny Ardant.
---
Relationship:
François Truffaut created, with Hitchcock, one of the most important testimonies of any filmmaker in the XX century "Hitchcock-Truffaut" also known as "The Cinema according to Hitchcock".
The book helped establish Hitchcock (finally) as an artist in complete control of his medium and as one of the greatest developers, (along with Eisenstein, Grifitt and Orson Welles) of the artistry and technique of the cinema.